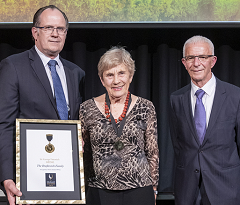 Michael Brajkovich MW, Melba Brajkovich, Sir George Fistonich
2019
The Brajkovich Family
Based in Kumeu, West Auckland, The Brajkovich family has carved the profile of New Zealand wines, in particular Chardonnay to the very highest level, regularly achieving outstanding scores in international tastings and competitions.
The late Mate, his wife Melba and the entire Brajkovich family – Michael MW, Paul, Milan and Mariana have devoted their lives to the wine industry and are widely regarded as the "first family" of New Zealand wine.
In every respect Legends of New Zealand Wine.